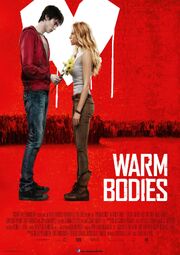 Summary of Movie
Warm Bodies is a 2013 American paranormal romantic zombie comedy film based on Isaac Marion's novel of the same name. Directed and written by Jonathan Levine, the film stars Nicholas Hoult, Teresa Palmer and Analeigh Tipton.
The film focuses on the development of the relationship between Julie, a young woman, and "R", a zombie, and how their eventual romance develops throughout. The film is noted for displaying human characteristics in zombie characters, and for being told from a zombie's perspective.
For more information about Warm Bodies, visit here.
Appearances in MAD
Ad blocker interference detected!
Wikia is a free-to-use site that makes money from advertising. We have a modified experience for viewers using ad blockers

Wikia is not accessible if you've made further modifications. Remove the custom ad blocker rule(s) and the page will load as expected.