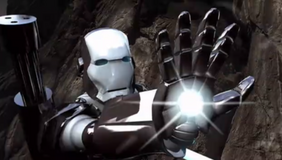 Summary of Character
War Machine (James Rupert Rhodes) is a fictional character, a comic book superhero appearing in comic books set in the Marvel Comics universe. The character of James Rhodes first appeared in Iron Man #118 (January 1979) by David Michelinie, John Byrne and Bob Layton. The War Machine armor, which became Rhodes' signature armored battlesuit, was designed by Len Kaminski and Kevin Hopgood.
Also known by his nickname Rhodey, Rhodes has been a featured character in the Iron Man animated series, Iron Man: Armored Adventures and The Invincible Iron Man animated film. He was played by actor Terrence Howard in the 2008 film Iron Man and by Don Cheadle in the sequel Iron Man 2.
For more information about War Machine, visit here.
Appearances in MAD
Ad blocker interference detected!
Wikia is a free-to-use site that makes money from advertising. We have a modified experience for viewers using ad blockers

Wikia is not accessible if you've made further modifications. Remove the custom ad blocker rule(s) and the page will load as expected.