Summary of Character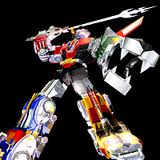 Voltron is the titular super robot of an anime series that features a team of young pilots, known as the Voltron Force. The team's individual vehicles join together to form the giant super robot, with which they defend the galaxy from evil. Initially produced as a joint venture between World Events Productions and Toei Animation, the original TV series aired in syndication from September 10, 1984 to November 18, 1985. The program was titled Voltron: Defender of the Universe.
For more information about Voltron, visit here (Click on a link) or here.
Appearances in Show
Voltron appeared as seen in Episode 2.
Ad blocker interference detected!
Wikia is a free-to-use site that makes money from advertising. We have a modified experience for viewers using ad blockers

Wikia is not accessible if you've made further modifications. Remove the custom ad blocker rule(s) and the page will load as expected.