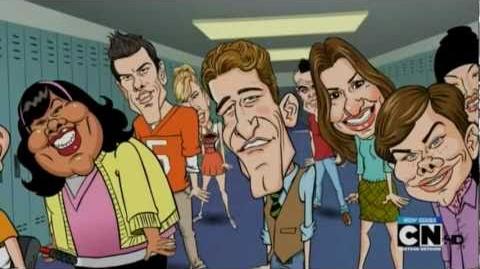 uGlee is a take-off of Glee.
This segment is from MAD Season 1, Episode 4: Star Blecch / uGlee.
Summary
The Glee club sing a song about singing in high school to probably raise more money when they lose their funding.
References
MAD References
Characters
Principal Figgins
Will Schuester
Rachel Berry
Finn Hudson
Quinn Fabray
Noah "Puck" Puckerman
Mercedes Jones
Kurt Hummel
Artie Abrams
Tina Cohen-Chang
Santana Lopez
Emma Pillsbury
Brad the Piano Guy
Zac Efron (as Troy Bolton)
White Spy (in a cheerleader outfit, taking the role of Brittany)
Mr. T (brief cameo during the part mentioning Puck's hairstyle being "from '83")
Transcript
(Scene begins at McKinley High, in Lima, Ohio, in the principal's office.)
Principal Figgins: I'm afraid there's no money in the budget for Glee Club.
Will Schuester: How can you be so sure?
Principal Figgins: Well, for starters, (cuts to Figgins sitting on Brittany) we're using the cheerleaders as chairs now.
Will Schuester: Uhh, how can my group compete with screameos?
Sue Sylvester: They can't. My girls are beautiful and they're invulnerable. (smashes Santana with a lamp)
Will Schuester: I think you're confusing them with the cheerleader from Heroes.
Sue Sylvester: An easy mistake. They're both popular and they both bring in the crowd. Unlike your pile of--
Principal Figgins: Don't say it! We don't have enough money in the budget for a censor, either.
Sue Sylvester: Too bad, because they are uhhhh...
Chorus: ♫ Glee! ♫
(Scene changes to the title card, uGlee, but the "U" sweeps "Glee" away)
Will Schuester: Oh yeah? You'll see. We'll bring in the crowd the same way all those teen shows do it.
Sue Sylvester: What's that?
(Music starts)
♫ Just some high school squares / Some jocks, some girls, one's in a chair ♫
♫ Trying hard to stay on key... dodging red slushees ♫
♫ She hates germs / They're told to spy / Not quite sure if that's a guy *burps* ♫
♫ But no matter what it's called, it's a lot like High School Musical! ♫ (Zac Efron, as Troy Bolton, appears holding a "High School Musical" sign, but gets whacked)
♫ Singing in high school / Seems to be the thing that's cool / So we'll do it too, this makes the show #5 ♫ (Zac appears again, and gets whacked again)
♫ AAHHHHH! ♫
♫ The Jonas Brothers sang ♫
♫ Awee-hee-hee! ♫
♫ Hannah Montana croons ♫
♫ Ooo-hoo-hoo! ♫
♫ VICTORiOUS is filled with tunes ♫
♫ It's cheap; It's lame; we're all just copying Fame! ♫
♫ Singing in high school, / Seems to be the only rule / Forget plot ♫
♫ Who are we trying to foooooool? ♫
♫ No need for originality / His hairstyle's from '83... And this gesture is our sole choreography... It's all schlock! ♫
Will Schuester: What do you think? Can Glee stay?
Principal Figgins: I don't know. There wasn't enough money in the budget for an ending.
Chorus: ♫ Glee! ♫
Trivia
MAD Magazine also did a parody of Glee called Glee-tarded on Issue 506 which features the same art style.
uGlee reappeared in GleeVR.
Innuendo: In one scene of Sue Sylvester, the teens are singing "Not quite sure if that's a guy".
This is the first time that White Spy appeared in a main segment except Spy vs. Spy.
Antagonists: Sue Sylvester and Principal Figgins
The song and Glee first appeared in The Lesser Known Effects of Global Warming that two polar bears watched and loved Glee.
This is the third segment that the name of a MAD parody is said. The first was TransBOREmores and the second was the beginning movie segment in this episode of MAD.
During the song, Kurt is erroneously identified as a jock ("some jocks, some girls..."), which is especially jarring since one of the first scenes of the original Glee shows him being thrown into a trashcan by the jocks, Puck and Finn included (though Finn did show some kindness by removing Kurt's name-brand jacket).
Lyrics
Lyrics: See the transcript for complete song lyrics.
Ad blocker interference detected!
Wikia is a free-to-use site that makes money from advertising. We have a modified experience for viewers using ad blockers

Wikia is not accessible if you've made further modifications. Remove the custom ad blocker rule(s) and the page will load as expected.