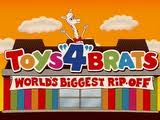 This skit is from the episode Pirates of the Neverland: At Wit's End / Batman Family Feud.
Summary of Skit
ON SALE THIS WEEK:
Baby-Cutz-A-Lot (Baby-Laughs-A-Lot)
LECTRO-Land Playsets (LEGO Land Playsets)
Meat Farm (Ant Farm)
Skill Saw (Jigsaw)
Play-Don't! Radioactive Gloop (Play-Doh!)
All on sale this week at the world's biggest ripoff!
Transcript
Llama: I wanna throw up, those kids are real rats, so that's why I send them to my Toys "4" Brats!
Announcer: This week at Toys "4" Brats, check out Baby Cutz-A-Lot...
Llama: That's gotta hurt.
Announcer: LECTRO-Land Playsets...
Llama: ZOWIE!
Announcer: Meat Farm...
Llama: Eww.
Announcer: Skill Saw....
Llama: That's sharp!
Announcer: ...and Play Don't! Radioactive Gloop.
Llama: So when you're swinging your kids, like you're swinging at gnats, just send them down to Toys "4" Brats!
Announcer: World's biggest rip-off!
Gallery
Trivia
This skit is based on an original cartoon strip by Mike Wartella published December 9, 1998. This fact is stated on M. Wartella's website, where anyone can also see the original comic: http://www.ackxhpaez.com/brats.html.
The skit parodies Toys "R" Us.
The Llama has dollar signs all over him and is a parody of Geoffrey the Giraffe.
LECTRO-Land is a parody of LEGO sets.
This skit parodies Play-Doh.
Morttel is a parody of Mattel
Hazbio is a parody of Hasbro.
This skit has violent content and blood in it, but is not removed from Cartoon Network censorship.
Ad blocker interference detected!
Wikia is a free-to-use site that makes money from advertising. We have a modified experience for viewers using ad blockers

Wikia is not accessible if you've made further modifications. Remove the custom ad blocker rule(s) and the page will load as expected.