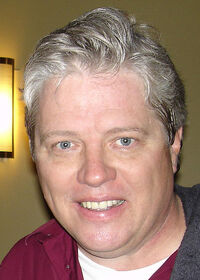 Thomas Francis Wilson Jr. (born April 15, 1959) is an American actor, writer, musician, painter, voice-over artist, stand-up comedian, and podcaster. He is best known for playing Biff Tannen (and his grandson Griff Tannen and great-grandfather Buford "Mad Dog" Tannen) in the Back to the Future trilogy, a supporting role in April Fool's Day and Coach Ben Fredricks on NBC's Freaks and Geeks.
For more information about Tom Wilson, visit here or here.
Episodes Acted In
Ad blocker interference detected!
Wikia is a free-to-use site that makes money from advertising. We have a modified experience for viewers using ad blockers

Wikia is not accessible if you've made further modifications. Remove the custom ad blocker rule(s) and the page will load as expected.