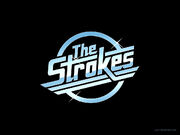 The Strokes are an American rock band from New York, consisting of Julian Casablancas (lead vocals), Nick Valensi (guitar, backing vocals), Albert Hammond, Jr. (guitar, backing vocals), Nikolai Fraiture (bass guitar) and Fabrizio Moretti (drums, percussion). The Strokes appear in HOPS.
Upon the release of their debut album Is This It in 2001, the group met much critical acclaim. Since then, the band has maintained a large fan base all over the world, most notably in the United States, the United Kingdom, Canada, France, Brazil and Australia. A number of members have embarked on a variety of side projects, although a fourth album, entitled Angles, was released on March 22, 2011. They are one of the most prominent indie-rock bands to hail from the US at the dawn of the 21st century and helped start the garage rock revival movement. Is This It was ranked number 199 on Rolling Stone's 500 Greatest Albums of All Time.
Ad blocker interference detected!
Wikia is a free-to-use site that makes money from advertising. We have a modified experience for viewers using ad blockers

Wikia is not accessible if you've made further modifications. Remove the custom ad blocker rule(s) and the page will load as expected.