Summary of Puppet Characters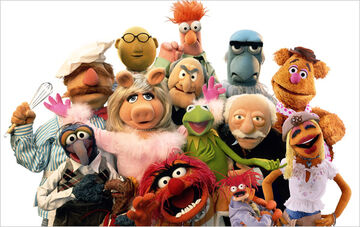 The Muppets are a group of puppet characters created by Jim Henson starting in 1954–55. Although the term is often used to refer to any puppet that resembles the distinctive style of The Muppet Show, the term is both an informal name and legal trademark owned by the Walt Disney Company in reference to the original characters created by Henson.
The word "Muppet" itself first appeared in 1956, and was said by Henson to have been created by combining the words "Marionette" and "puppet". However, Henson was also known to have stated that it was just something he liked the sound of, and he made up the "marionette/puppet" story while talking to a journalist because it sounded plausible.
After earlier unsuccessful attempts, The Walt Disney Company bought the Muppets in 2004. Exceptions include characters appearing on Sesame Street (as they were previously sold to Sesame Workshop, although they have always had creative rights, only paying The Jim Henson Company to create and provide their Muppet characters for their use) and the Fraggles of Fraggle Rock (which are still owned by The Jim Henson Company). The legal trademark on the term "Muppet" is currently held by The Muppets Studio, a division of The Walt Disney Company, although Sesame Workshop and The Jim Henson Company continue to use the term on their characters with certain permissions from Disney.
A new eponymous movie written by Jason Segel and Nicholas Stoller and directed by James Bobin is due for theatrical release in November, 2011. This will be the first Muppet theatrical film since Muppets from Space from 1999.
For more information about the Muppets, visit here or here.
Appearances in Show
Trivia
Kermit, Miss Piggy, Fozzie Bear, Sam the Eagle, Statler, Waldorf, and Rowlf from "The Muppets" have appeared on MAD.
Elmo, Big Bird, The Count, Cookie Monster, Bert & Ernie, Snuffy, Prairie Dawn, Zoe, and Oscar from "Sesame Street" have been on MAD.
Mad never referenced Fraggle Rock, The Dark Crystal, or Dinosaurs.
Ad blocker interference detected!
Wikia is a free-to-use site that makes money from advertising. We have a modified experience for viewers using ad blockers

Wikia is not accessible if you've made further modifications. Remove the custom ad blocker rule(s) and the page will load as expected.