Summary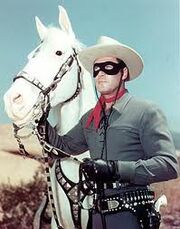 The Lone Ranger is a fictional character, a masked ex-Texas Ranger who, with his Native American companion Tonto, fights injustice in the American Old West. The character has become an enduring icon of American culture.
He first appeared in 1933 in a radio show conceived either by WXYZ radio station owner George W. Trendle or by Fran Striker, the show's writer. The show proved to be a huge hit, and spawned an equally popular television show that ran from 1949 to 1957, as well as comic books and movies. The title character was played on radio by George Seaton, Earle Graser, and most memorably Brace Beemer. To television viewers, Clayton Moore was the Lone Ranger. Tonto was played by, among others, John Todd, Roland Parker, and in the television series, Jay Silverheels.
Departing on his white stallion, Silver, the Lone Ranger would shout, "Hi-yo, Silver! Away!" As they galloped off, someone would ask, "Who was that masked man anyway?" Tonto usually referred to the Lone Ranger as "Ke-mo sah-bee", meaning "trusty scout" or "trusted friend." These catchphrases, his trademark silver bullets, and the theme music from the William Tell overture are remembered by the millions who came of age during the decades of the show's initial popularity or have viewed the television series. Re-runs of the Lone Ranger starring Clayton Moore were still being transmitted as of August 2010, 61 years after their initial broadcast. For more information about the Lone Ranger, visit here or here.
Appearances in MAD
Ad blocker interference detected!
Wikia is a free-to-use site that makes money from advertising. We have a modified experience for viewers using ad blockers

Wikia is not accessible if you've made further modifications. Remove the custom ad blocker rule(s) and the page will load as expected.