Summary of Movie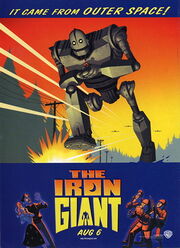 The Iron Giant
is a 1999 animated science fiction fantasy action film produced by
Warner Bros. Animation
, based on the 1968 novel
The Iron Man
by Ted Hughes. Brad Bird directed the film, which stars a voice cast of
Jennifer Aniston
, Harry Connick, Jr.,
Vin Diesel
, Eli Marienthal, Christopher McDonald and John Mahoney. The film tells the story of a lonely boy named Hogarth raised by his widowed mother, discovering a giant iron man who fell from space. Hogarth, with the help of a beatnik named Dean, has to stop the U.S. military and a federal agent from finding and destroying the Giant.
The Iron Giant
takes place in the U.S. state of Maine during the height of the Cold War in October 1957.
For more information about The Iron Giant, visit here.
Appearances in MAD
Ad blocker interference detected!
Wikia is a free-to-use site that makes money from advertising. We have a modified experience for viewers using ad blockers

Wikia is not accessible if you've made further modifications. Remove the custom ad blocker rule(s) and the page will load as expected.