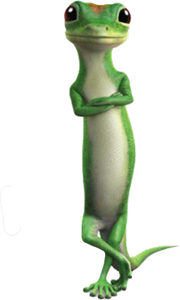 The Gecko
is a character from the
GEICO
commercials.
Summary of Character
The GEICO company's ads sometimes focus on its reptilian mascot the Gecko, an anthropomorphic Day Gecko created by The Martin Agency and most recently a CGI creature generated by Framestore CFC. The gecko first appeared in 1999 during the Screen Actors Guild strike that prevented the use of live actors.The original commercial features the Gecko, voiced by actor Kelsey Grammer, pleading for people to stop calling him in error as he is a gecko not to be confused with GEICO. Later "wrong number" ads used Dave Kelly as the voice of the gecko. In the subsequent commercials with Jake Wood, (which portray him as a representative of the company), the gecko speaks with a Cockney accent, because it would be unexpected, according to Martin Agency's Steve Bassett. In current commercials the gecko's accent is more working-class, perhaps in an effort to further "humanize" him. "As computer animation got better and as we got to know the character better, we did a few things," says Steve Bassett, creative director at The Martin Agency. "We wanted to make him a little more guy-next-door. And he looks a lot more real than he's looked before."
Appearances in MAD
Ad blocker interference detected!
Wikia is a free-to-use site that makes money from advertising. We have a modified experience for viewers using ad blockers

Wikia is not accessible if you've made further modifications. Remove the custom ad blocker rule(s) and the page will load as expected.