This ad is from the episode
Dark Knight at the Museum / Lemming Snicket's A Series of Unfortunate Video Game Deaths
.
Summary of Ad
Cosmo and Wanda advertise parental controls.
Transcript
Mom: I told you kids not to sit so close to the TV! And what did I say about watching MAD?
Billy and Sally: Aaaw, Mom...
Mom: Good thing I can block it with the parental controls.
(She pushes the red button, and the word "Blocked" appears on the TV screen.)
Billy: I wish we could watch whatever we wanted.
(Wanda and Cosmo appear.)
Wanda: Rules got you down?
Billy and Sally: Wanda and Cosmo?
Sally: What are you doing here?
Cosmo: Plugging our new product! The Fairly Odd Parental Controler!
Wanda: Just swap it out for the real device and you can watch whatever you want! While your parents think you're watching something else!
Billy: You mean like, nature shows?
(Cosmo and Wanda pause)
Cosmo: Huh. That probably would've been a smarter idea. Here's what we did!
(The scene switches to Billy watching television)
Mom: Billy, don't sit so close to that...
(Mom's eyes widen as she looks up at the screen and pauses)
Mom: Raccoon. Never mind.
Wanda: See? While you're watching your favorite shows, our state of the art magic projects a different image towards your parents.
(The scene switches to Sally watching television)
Dad: Sally! Didn't I say I didn't want you watching that...
(Dad's eyes widen as he looks up at the screen and pauses)
Dad: Viking? Ah, forget it.
Cosmo: Plus with our magical USB port, you can even upload your own images!
(The scene switches to Billy watching television and laughing)
Mom: What did I tell you about laughing at your sister?
(Billy stops laughing)
Mom: Go to your room!
Billy: Wait, what? But...
Wanda: The Fairly Odd Parental Controls. If we were any good at magic, we wouldn't need a side business!
(Wanda winks)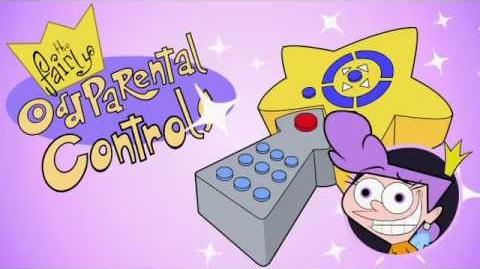 Characters
Trivia
This is the first time Nickelodeon's the Fairly OddParents get spoofed.

Note: Tara Strong does the voice of Wanda instead of Timmy Turner.

The title of this is as the font of The Fairly OddParents!
The real name of the boy and girl are:
Ape Sheriff was seen on the TV.
Cosmo is voiced by Daran Norris on the cartoon, although in this sketch he is voiced by Dana Snyder, whose voice sounds like Norris's did from 2001-2005.
The mother and father are Mr. and Mrs. Turner from the original cartoon.
Ad blocker interference detected!
Wikia is a free-to-use site that makes money from advertising. We have a modified experience for viewers using ad blockers

Wikia is not accessible if you've made further modifications. Remove the custom ad blocker rule(s) and the page will load as expected.