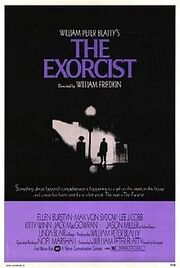 Summary of Movie
The Exorcist is a 1973 American horror film directed by William Friedkin, adapted from the 1971 novel of the same name by William Peter Blatty and based on the exorcism case of Robbie Mannheim, dealing with the demonic possession of a young girl and her mother's desperate attempts to win back her daughter through an exorcism conducted by two priests. The film features Ellen Burstyn, Max von Sydow, Jason Miller and Linda Blair. The film is one of a cycle of 'demonic child' movies produced in the late 1960s and early 1970s, including Rosemary's Baby and the Omen.
For more information about the Exorcist, visit here.
Appearances in MAD
Ad blocker interference detected!
Wikia is a free-to-use site that makes money from advertising. We have a modified experience for viewers using ad blockers

Wikia is not accessible if you've made further modifications. Remove the custom ad blocker rule(s) and the page will load as expected.