Summary of Movie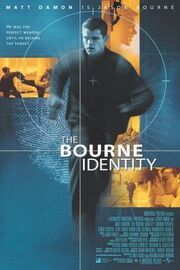 The Bourne films
are a series of assassin films based on the character Jason Bourne, a former CIA assassin suffering from psychogenic amnesia, created by author Robert Ludlum. All three of Ludlum's novels were adapted for the screen, featuring Matt Damon as the titular character in each. Doug Liman directed
The Bourne Identity
(2002), Paul Greengrass directed
The Bourne Supremacy
(2004) and
The Bourne Ultimatum
(2007), and Tony Gilroy co-wrote each film. The series is noted for its realism, in contrast to the growing use of CGI in the action genre.
For more information about The Bourne Series, visit here or here.
List of Appearances
Ad blocker interference detected!
Wikia is a free-to-use site that makes money from advertising. We have a modified experience for viewers using ad blockers

Wikia is not accessible if you've made further modifications. Remove the custom ad blocker rule(s) and the page will load as expected.