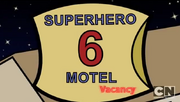 This ad is a parody of
Motel 6
.
This ad is from the episode Force Code / Flammable.
Summary of Skit
Superhero 6 Motel is the only motel chain to your super needs.
References
Characters
Ace the Bat-Hound
Lockjaw
Lockheed
Throg
Announcer
Transcript
Announcer: Don't you hate defeating supervillains so far from home?
BOOM!
Thor: We just defeated Galactus. Now we have to travel all the way home?
Thing: Do you know what traffic is like at this part of space?
Announcer: That's why there's the Superhero 6 Motel, the only motel chain to your super needs! So check into one of our deluxe suites and you can really stretch out.
Mr. Fantastic
: Hmm...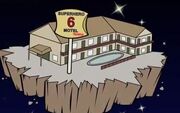 Announcer: Stay connected with our 24-hour business center.
[punch]
[fax machine noises]
Announcer: Our dry cleaners can handle anything from tuxedos to heavy suits. Enjoy our salt water swimming pool and all Superhero 6s are pet friendly with vibrainium hour-long kennel. The Superhero 6 Motel! Located secretly at exit 9 behind Saturn and Avenue Q.
Loki: Surely if it was here, there be a sign. This is a highway, for crying out loud!
Spider-Man & Thor: Thanks, Superhero 6!
Announcer: It's your very own Fortress of Solitude, only with a checkout time.
Trivia
Ad blocker interference detected!
Wikia is a free-to-use site that makes money from advertising. We have a modified experience for viewers using ad blockers

Wikia is not accessible if you've made further modifications. Remove the custom ad blocker rule(s) and the page will load as expected.