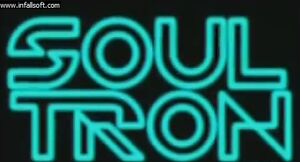 Soul Tron is a crossover between Soul Train and TRON: Legacy.
This ad is from the episode HOPS / Naru210.
Summary of Skit
TBA
References
Characters
Tron Cornelius
Sam Flynn
Quorra
Red Players
Blue Players
Daft punk
Transcript
Tron Cornelius: Get ready to dust your records, because it's time for Soul Tron, the hippest trip on the grid. I'm your host, Tron Cornelius and we got some great additions to the Soul Tron line, so let the games begin. This season is jammed with great artists like the Jackson 5, Kanye West, and Alicia Keys. So get on your lightcycle and join the Soul Tron.
Title: Sooooouuuul... Tron!
Trivia
Ad blocker interference detected!
Wikia is a free-to-use site that makes money from advertising. We have a modified experience for viewers using ad blockers

Wikia is not accessible if you've made further modifications. Remove the custom ad blocker rule(s) and the page will load as expected.