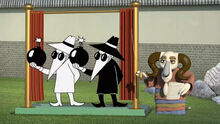 In the film , the Soothsayer is a key to search the past for Po , and who is attracted by visions attended him in a village abandoned by Panda Tribe before being destroyed by Lord Shen as a result of exile.
I used to work for predicting the fortunes of empire before being caught by Lord Shen because I predict that the fall of Lord Shen (to discover the use of gunpowder to create the weapon) would be destroyed by a black and white warrior.

In Version Parody, The Soothsayer is the co-protagonist of Kung Fu with Po Blander about eliminating the Lord Shen. A film like, only beaten by force in white and black, but since it is Po, warrior looks for the possible to defeat Lord Shen, who turned out are the Black and White Spy .
Character Appearances in Show
Ad blocker interference detected!
Wikia is a free-to-use site that makes money from advertising. We have a modified experience for viewers using ad blockers

Wikia is not accessible if you've made further modifications. Remove the custom ad blocker rule(s) and the page will load as expected.