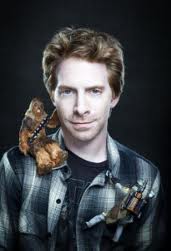 Seth Benjamin Gesshel-Green
(born February 8, 1974) is an American actor, comedian, voice actor, and television producer. He is well known for his role as Daniel "Oz" Osbourne in
Buffy the Vampire Slayer
, as well as Dr. Evil's son Scott in the
Austin Powers
series of comedy films and Mitch Miller in
That '70s Show
. He also voices the characters of Chris Griffin on
Family Guy
, Lieutenant Gibbs in
Titan Maximum
, Jeff "Joker" Moreau in the
Mass Effect
video game series, and is one of the creators and producers of the stop motion comedy series
Robot Chicken
, in which he also voices many characters. Green has appeared in many other movies, such as
Rat Race
,
The Italian Job
,
Can't Hardly Wait
,
Without a Paddle
, and as a child in the horror film
Stephen King's It
.
Appearances in Show
Episode 2 (28) Super 80's: Himself driving a truck on Joe Lamb's iPhone saying "If I can't have the Eighties, nobody can!" which references his show Robot Chicken where they reference the eighties often.
Episodes Acted In
Ad blocker interference detected!
Wikia is a free-to-use site that makes money from advertising. We have a modified experience for viewers using ad blockers

Wikia is not accessible if you've made further modifications. Remove the custom ad blocker rule(s) and the page will load as expected.