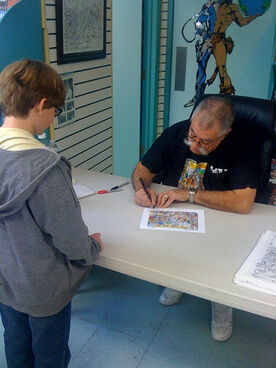 Sergio Aragonés Domenech (born September 6, 1937, Sant Mateu, Castellón, Spain) is a cartoonist and writer best known for his contributions to MAD (Magazine) and creator of the comic book Groo the Wanderer.
Among his peers and fans, Aragonés is widely regarded as "the world's fastest cartoonist." The Comics Journal has described Aragonés as "one of the most prolific and brilliant cartoonists of his generation." Mad editor Al Feldstein said, "He could have drawn the whole magazine if we'd let him."
Ad blocker interference detected!
Wikia is a free-to-use site that makes money from advertising. We have a modified experience for viewers using ad blockers

Wikia is not accessible if you've made further modifications. Remove the custom ad blocker rule(s) and the page will load as expected.