Summary of Character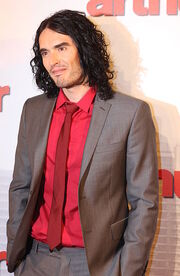 Russell Edward Brand
(born 4 June 1975) is an English comedian, actor, columnist, singer, author and radio/television presenter. Brand's childhood and early adulthood were marked with personal misfortune and addiction. After successfully exiting rehab, Brand achieved fame in the UK in 2003 for his
Big Brother
spin-off,
Big Brother's Big Mouth
. Although he had previously acted in movies and television, his first major role was in the film
Forgetting Sarah Marshall
which led to a starring role in 2010's
Get Him to the Greek
. He has also been a voice actor for animated films such as 2010's
Despicable Me
and the 2011 film
Hop
. He starred in the 2011 remake of the 1981 Dudley Moore film
Arthur
.
Brand is noted for his eccentricity and his controversies in the British media, including his dismissal from MTV for dressing up as Osama Bin Laden and controversies while presenting at various award ceremonies. The 2008 prank telephone calls he made to Andrew Sachs while co-hosting The Russell Brand Show with Jonathan Ross led to his resignation from the BBC and major policy changes in that organisation. He married American pop singer Katy Perry in October 2010; they separated in December 2011 and were divorced the following year.
For more information about Russell Brand, visit here.
Appearances in Show
Ad blocker interference detected!
Wikia is a free-to-use site that makes money from advertising. We have a modified experience for viewers using ad blockers

Wikia is not accessible if you've made further modifications. Remove the custom ad blocker rule(s) and the page will load as expected.