Summary of Character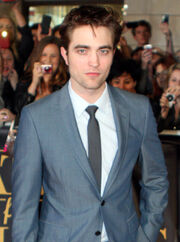 Robert Douglas Thomas Pattinson
(born 13 May 1986) is an English actor, model, musician, and producer. Born and raised in London, Pattinson started out his career by playing the role of Cedric Diggory in
Harry Potter and the Goblet of Fire
. Later, he landed the leading role of
Edward Cullen
in the film adaptations of the
Twilight
novels by Stephenie Meyer, and came to worldwide fame. Pattinson was ranked as one of the highest paid actors in Hollywood based on 2009 earnings. In 2010, Pattinson was named one of
TIME
magazine's 100 Most Influential People in The World, and also in the same year
Forbes
ranked him as one of the most powerful celebrities in the world in the Forbes Celebrity 100.
For more information about him, visit here.
Appearances in Show
A sneaking Robert Pattinson can be seen in the Season 2 opening.
Ad blocker interference detected!
Wikia is a free-to-use site that makes money from advertising. We have a modified experience for viewers using ad blockers

Wikia is not accessible if you've made further modifications. Remove the custom ad blocker rule(s) and the page will load as expected.