Rejected Video Games is a Rejected segment from ArTHOR / The Big Fang Theory.
Rejected Video Games
Finals Fantasy
Tomb Reader
Blogger
References
Transcript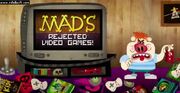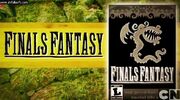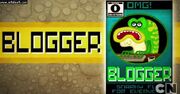 Announcer: Here are some of MAD's Rejected Video Games. Finals Fantasy...
(OPTIONS: CHEAT! HERO USED "CHEAT!" FINAL EXAM USED "BLADE OF DISCLIPINE"! FAIL...)
Announcer: Tomb Reader...
(Lara Croft reaches the treasure room. Suddenly, the doors open.)
Tomb: There is but one way to reach the treasure: (Books fly out until Lara grabs "Alice in Wonderland") Summarize the major themes of Alice in Wonderland! MWAHAHAHA!
(LATER...)
Tomb: Uh, are you done yet?
Lara Croft: Page 9.
Announcer: And Blogger!
Blogger: OMG. Khloé Kardashian was seen at a red carpet that she purchased at Pottery Yarn. LOL, IMO, SUV. SUV?! (Gets run over)
Trivia
Cloud Strife is seen wearing his black wing costume from Kingdom Hearts.
Ad blocker interference detected!
Wikia is a free-to-use site that makes money from advertising. We have a modified experience for viewers using ad blockers

Wikia is not accessible if you've made further modifications. Remove the custom ad blocker rule(s) and the page will load as expected.