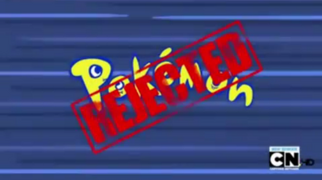 Rejected Pokémon is a Rejected segment from Cliffordfield / Big Time Rushmore.
Rejected Pokémon
Punchachu
Glasstar
Buzzkill
Your Uncle Hank
Transcript
Announcer: Pokémon, you gotta catch 'em all...or do you? REJECTED POKÉMON! Punchachu! Special Attack: Kicking.
(Two big fists at his disposal and all Punchachu does is kick one foot.)
Announcer: Glasstar! Special Attack: ... Frailty.
[CRACK!]
Announcer: Buzzkill! Special Attack: Indifference.
Buzzkill's Trainer: Come on, Buzzkill! It's a Pokémon battle! You love those!
Buzzkill: Meh.
Announcer: Your Uncle Hank! Special Attack: Confusion.
Uncle Hank: What's with all this Pokémon? Am I winning? I'm gonna go stand over there.
Announcer: REJECTED POKÉMON!
(Scene ends and goes to Spy vs. Spy.)
Trivia/Goofs
One of the trainers resembles to be Max from Pokémon Advanced, Pokémon Advanced Challenge, Pokémon Advanced Battle, Pokémon Battle Frontier and the Mastermind of Mirage Pokémon.
Punchachu is a parody of Pikachu, both being mice as well.
Buzzkill resembles a real Pokémon, Hoothoot.
Confusion is an actual psychic-type move in the games.
Here are the reasons of the Rejected Pokémon:

Punchachu: Rejected cause his feet are weak (and can't kick well, either).
Glasstar: Rejected because he shatters a lot.
Buzzkill: Rejected of being so indifferent and lazy.
Your Uncle Hank: Rejected because HE'S NOT A POKÉMON! HE'S YOUR UNCLE!
Ad blocker interference detected!
Wikia is a free-to-use site that makes money from advertising. We have a modified experience for viewers using ad blockers

Wikia is not accessible if you've made further modifications. Remove the custom ad blocker rule(s) and the page will load as expected.