Summary of Character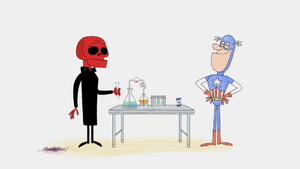 The
Red Skull
is a name shared by several fictional characters, all supervillains from the Marvel Comics universe. All incarnations of the character are enemies of
Captain America
, other superheroes, and the United States in general.
The first two Red Skulls are Nazi agents and the third is a Soviet agent. The Red Skull was first introduced in Captain America Comics #1 in 1941. The first Red Skull (George Maxon) to appear in comics was an American industrialist turned Nazi saboteur. Maxon turned out to be an agent of the true Red Skull (Johann Schmidt), considered (according to S.H.I.E.L.D.) as one of the greatest threats to humanity, and a long-time archenemy of Captain America. The third Red Skull (Albert Malik) is best known for causing the deaths of the parents of Peter Parker, and thus orphaning the boy who would become Spider-Man. The Red Skull was ranked number 21 on Wizard Magazine's Top 100 Greatest Villains Ever list and was also ranked as IGN's 14th Greatest Comic Book Villain of All Time.
For more information about Red Skull, visit here.
Appearances in Show
Ad blocker interference detected!
Wikia is a free-to-use site that makes money from advertising. We have a modified experience for viewers using ad blockers

Wikia is not accessible if you've made further modifications. Remove the custom ad blocker rule(s) and the page will load as expected.