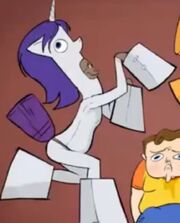 Summary of Character
Rarity is a female Unicorn and is one of the main characters on My Little Pony: Friendship is Magic. She manufactures clothes for her friends and has gear for this such as irons. She Represents the Element of Generosity.
Character Appearances
Ad blocker interference detected!
Wikia is a free-to-use site that makes money from advertising. We have a modified experience for viewers using ad blockers

Wikia is not accessible if you've made further modifications. Remove the custom ad blocker rule(s) and the page will load as expected.