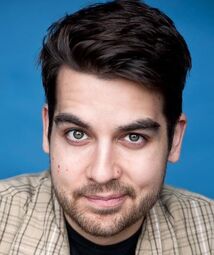 Piotr Michael (credited as Piotr Walczuk) is an actor and comedian, cheered for his chameleon-like ability to mimic and create characters. He is best known as an impressionist and gained worldwide attention from YouTube, even catching the eyes of producers from Saturday Night Live who considered him as a potential cast member at the age of 20 years old.
Working as a voice actor and improvisational comedian, he has voiced characters on TV, Radio, the Web, and Video Games. When not performing LIVE in Los Angeles, he can be found regularly producing comedic videos and podcasts online.
Episodes Acted In
Ad blocker interference detected!
Wikia is a free-to-use site that makes money from advertising. We have a modified experience for viewers using ad blockers

Wikia is not accessible if you've made further modifications. Remove the custom ad blocker rule(s) and the page will load as expected.