Summary of Comic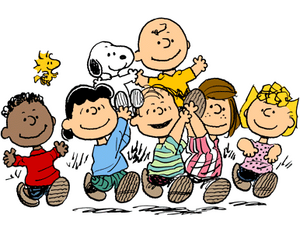 Peanuts
is a syndicated daily and Sunday American comic strip written and illustrated by Charles M. Schulz, which ran from October 2, 1950, to February 13, 2000, continuing in reruns afterward. The strip is considered to be one of the most popular and influential in the history of the medium, with 17,897 strips published in all, making it "arguably the longest story ever told by one human being", according to Professor Robert Thompson of Syracuse University. At its peak,
Peanuts
ran in over 2,600 newspapers, with a readership of 355 million in 75 countries, and was translated into 21 languages. It helped to cement the four-panel gag strip as the standard in the United States, and together with its merchandise earned Schulz more than $1 billion. Reprints of the strip are still syndicated and run in many newspapers.
For more information about Peanuts, visit here.
Appearances in Show
A Clay-animated version of Charlie Brown is shown in Seasons 1 and 2.
Trivia
Alfred E. Neuman appeared in a Peanuts comic strip, where Charlie Brown thinks that he's going crazy, since whenever the sun rises he sees a baseball. One day, he watches the sun rise, and he sees Alfred's head instead.
Ad blocker interference detected!
Wikia is a free-to-use site that makes money from advertising. We have a modified experience for viewers using ad blockers

Wikia is not accessible if you've made further modifications. Remove the custom ad blocker rule(s) and the page will load as expected.