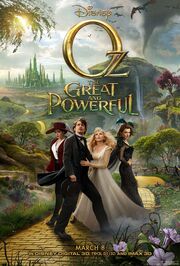 Summary of Movie
Oz the Great and Powerful is a 2013 American fantasy adventure film directed by Sam Raimi, produced by Joe Roth, and written by David Lindsay-Abaire and Mitchell Kapner. The film stars James Franco as Oscar "Oz" Diggs, Mila Kunis as Theodora, Rachel Weisz as Evanora, and Michelle Williams as Glinda.
The film is based on L. Frank Baum's Oz novels, and also pays homage to the 1939 MGM film, the Wizard of Oz. Set 20 years before the events of both sources, Oz the Great and Powerful focuses on Oscar "Oz" Diggs, who arrives in the Land of Oz and encounters three witches: Theodora, Evanora, and Glinda. Oscar is then enlisted to restore order in Oz, while struggling to resolve conflicts with the witches and himself.
Oz the Great and Powerful premiered at the El Capitan Theatre on Valentine's Day 2013 (February 14, 2013), and with general theatrical release on March 8, 2013, through the Disney Digital 3D, RealD 3D, and IMAX 3D formats, as well as in conventional theatres. Despite mixed reviews, the film was a box office success, grossing $489 million worldwide in revenue, $149 million of which was earned during its opening weekend worldwide.
For more infomation about Oz the Great and Powerful, visit here.
Appearances in MAD
Ad blocker interference detected!
Wikia is a free-to-use site that makes money from advertising. We have a modified experience for viewers using ad blockers

Wikia is not accessible if you've made further modifications. Remove the custom ad blocker rule(s) and the page will load as expected.