Summary of TV Show
Minute to Win It
was an American prime time game show on NBC hosted by Guy Fieri. Contestants took part in a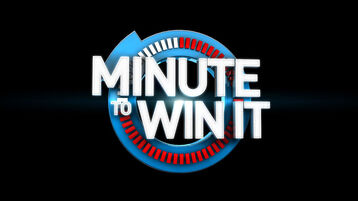 series of 60-second challenges that use objects that are commonly available around the house.
The show premiered on March 14, 2010, airing the first two episodes back-to-back at 7:00 p.m. Eastern and Pacific. On October 6, 2010 Minute to Win It was awarded the C21/Frapa Award for Best studio based game show format at the MIPCOM Television Festival in France. A card game, board game, and video game versions for the Nintendo Wii and DS have been made for this show. The United States version's final episode aired on August 31, 2011.
For more information about Minute To Win It, visit here or here.
Appearances in Show
Ad blocker interference detected!
Wikia is a free-to-use site that makes money from advertising. We have a modified experience for viewers using ad blockers

Wikia is not accessible if you've made further modifications. Remove the custom ad blocker rule(s) and the page will load as expected.