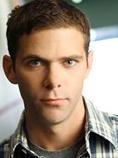 Michael William "Mikey" Day (born March 20, 1980) is an American actor, comedian, and improvisational performer.
Day was born in Orange County, California. He graduated from El Modena High School in Orange, California as an honors student in 1998, where he was involved in the drama program. Day also portrayed a victim in a staged automobile accident to give his fellow classmates a sense of the dangers of intoxicated driving.
In 2002, Day graduated from UCLA with a degree in theatre. Day is a member of The Groundlings, a Los Angeles, California-based improv and sketch comedy troupe. He performed at the Improv Olympics in Hollywood for three months.
Episodes Acted In
Ad blocker interference detected!
Wikia is a free-to-use site that makes money from advertising. We have a modified experience for viewers using ad blockers

Wikia is not accessible if you've made further modifications. Remove the custom ad blocker rule(s) and the page will load as expected.