Summary of Character/Comic/Movie adaptation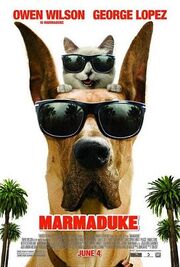 Marmaduke
is a newspaper comic strip drawn by Brad Anderson from 1954 to the present day. The strip was created by Anderson, with help from Phil Leeming (1955–1962) and later Dorothy Leeming (1963–1969), and (since August 2, 2004) Paul Anderson. The strip revolves around the Winslow family and their Great Dane, Marmaduke. The strip on Sundays also has a side feature called "Dog Gone Funny", in which one or more panels are devoted to dog anecdotes submitted by the fans. Anderson, who says he draws on Laurel and Hardy routines for his ideas, received the National Cartoonists Society Newspaper Panel Cartoon Award for the strip in 1978. Though not much of a house-hold name in the comic strip industry, Marmaduke became the inspiration of the popular animated Great Dane
Scooby-Doo
.
A 2010 live-action movie adaptation of the character by Tom Dev was made with George Lopez (the same voicer for Grouchy Smurf from the 2011 Smurfs film) as Carlos the Cat and Owen Wilson as the main character of the same name of the film. It features Marmaduke trying to fit in his new neighbourhood with the other famous dogs.
For more information about Marmaduke, visit here or here.
Appearances in Show
Ad blocker interference detected!
Wikia is a free-to-use site that makes money from advertising. We have a modified experience for viewers using ad blockers

Wikia is not accessible if you've made further modifications. Remove the custom ad blocker rule(s) and the page will load as expected.