Summary of Dessert Sauce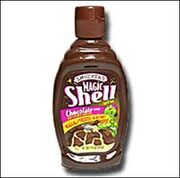 Magic Shell is an American dessert product produced by Smucker's. It is a syrup that quickly hardens into a crispy shell when poured onto a cold surface, which is the origin of the product's name. The syrup is primarily designed for use on ice cream. It comes in several flavors, including chocolate, caramel, chocolate fudge, cupcake, cherry, and smores in addition to two unique flavors—One with chocolate, caramel, and pecans which the company calls "Turtle Delight", and a flavor based upon the candy bar Twix, Hersheys, and Reeses.
For more information about Magic Shell, visit here.
Appearances in Show
Ad blocker interference detected!
Wikia is a free-to-use site that makes money from advertising. We have a modified experience for viewers using ad blockers

Wikia is not accessible if you've made further modifications. Remove the custom ad blocker rule(s) and the page will load as expected.