Summary of Movie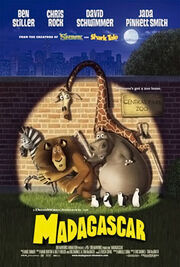 Madagascar
is a computer-animated franchise produced by
DreamWorks Animation
. Voices of
Ben Stiller
, Chris Rock, David Schwimmer and Jada Pinkett Smith are featured in the films.
The overall plot through the series follows the adventures of four Central Park Zoo animals who have spent their lives in blissful captivity and are unexpectedly shipped back to Africa. Now they must struggle to survive while attempting to return to New York City with the help of a crafty cadre of penguins.
The series has now grossed over $1.7 billion, making it the 18th highest-grossing franchise of all time, the fourth highest-grossing animated franchise (behind Shrek, Ice Age, and Toy Story), and the second highest-grossing franchise that DreamWorks which also enjoyed steadily improving critical favor with the primary film series.
For more information about Madagascar, visit here (Click on a link) or here.
Appearances in MAD
Ad blocker interference detected!
Wikia is a free-to-use site that makes money from advertising. We have a modified experience for viewers using ad blockers

Wikia is not accessible if you've made further modifications. Remove the custom ad blocker rule(s) and the page will load as expected.