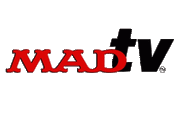 MADtv
is a TV show that originally ran from 1995-2009, and was renewed for a 15th Season by CW in 2016.
[1]
. It's a live-action late night sketch comedy formatted TV series based on
MAD
magazine which featured a lot of parodies, skits and spoofs created by Adam Small and Fax Bahr on
FOX
. It was syndicated and occasionally has reruns on Comedy Central. The show format is different, as
MADtv
is mainly live-action, where as
MAD
is primarily animated cartoons and more kid-friendly.
DVD releases
Season 1 was released on DVD by Warner Home Video in 2004.[2]
In 2012, Shout! Factory released Season 2,[3] 3,[4] and 4[5] on DVD.
Cast
Craig Anton
Nelson Ascencio
Erica Ash
Ike Barinholtz
Alex Borstein
Andrew Bowen
Matt Braunger
Frank Caeti
Frank Caliendo
Bryan Callen
Mo Collins
Tim Conlon
Andrew Daly
Lisa Donovan
Christian Duguay
Dannah Feinglass
Kathryn Fiore
Crista Flanagan
Pablo Francisco
Daniele Gaither
Daheli Hall
Simon Helberg
David Herman
Chris Hogan
Anjelah Johnson
Nicole Randall Johnson
Orlando Jones
Spencer Kayden
Keegan-Michael Key
Pat Kilbane
Taran Killam
Lisa Kushell
Phil LaMarr
Artie Lange
Bobby Lee
Michael McDonald
Jill-Michele Melean
Josh Meyers
Christina Moore
Arden Myrin
Dan Oster
Nicole Parker
Melissa Paull
Ron Pederson
Jordan Peele
Eric Price
Lauren Pritchard
Jeff Richards
Johnny Sanchez
Will Sasso
Mary Scheer
Aries Spears
Nicole Sullivan
Brooke Totman
Gillian Vigman
Paul Vogt
Stephnie Weir
Debra Wilson
Ad blocker interference detected!
Wikia is a free-to-use site that makes money from advertising. We have a modified experience for viewers using ad blockers

Wikia is not accessible if you've made further modifications. Remove the custom ad blocker rule(s) and the page will load as expected.