About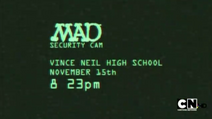 A presentation of surveillance footage of things that happens at public places during nightly closing hours. Each video features supernatural occurrences that suggests would never happen during the day. The most recent ones take place in the zoo.
List of episodes using this segment
Episode 21 (73) - Zoo - A father and his son go to a hot dog cart, but a gorilla replaces the son with a monkey.
Episode 23 (75) - Zoo - A zookeeper lets out a kangaroo out of its cage, and tries to dial a phone number, while a panda gets out of the kangaroo's pouch and gives the kangaroo a piece of bread, and runs away. The kangaroo drinks out of the pond, gets back into its cage, and the zookeeper closes the cage door.
Trivia
So far, there are 19 episodes of MAD that have featured the MAD Security Cam segment.
Ad blocker interference detected!
Wikia is a free-to-use site that makes money from advertising. We have a modified experience for viewers using ad blockers

Wikia is not accessible if you've made further modifications. Remove the custom ad blocker rule(s) and the page will load as expected.