Summary of MAD Magazine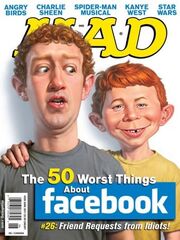 This magazine has stuff like
Letters and Tomatoes
$#*! my son says (Charlie Sheen, Martin Sheen)
The Fundalini Pages

Surprises to Watch for in the 2011 baseball season
Latest Classified Ads
Angry Birds, Angrier Birds, Angriest Birds
Leg of Lambert
Superhero Orgins Gone Wrong
Surprising Proposals in the NFL Labor Talks
This Bland is your bland
Monkeys are always funny
Ted Williams (Golden-Voiced Homeless Guy) vs. Ted Williams (Hall of Fame Baseball Player)
Reasons for that "Mature" ESRB Rating
Gimme a Flake
Spotlight on American Universities
Signs you haven't actually discovered a lost Amazon Tribe
Pull my cheney
What's making John Boehner cry this week?

Muddled Family
Kanye West's Most Moronic Tweets
The Strip Club

The Truth Flirts
Just Below the Surface
Coombs & Coombs
Good Enough!
Twisted Toaster Tales
It Only Hurts When I Laugh

Taco Bull letter
Signs that your Hypochondria is out of control
Planet Tad!!!!!
MAD's Thor Outtakes
MAD's 11 Little-Known, Practical, Real Life Uses for ballet
Spy vs. Spy
Don Martin Beats the High Cost of Gasoline
Dancing with the Star Wars
Sheen it?
Things you don't want to hear from a marriage counselor
A MAD Look at Hoarders
Similarities & Differences between the Spider-Man Musical and the War in Afghanistan
The 50 Worst Things about Facebook
One Fine Day on Main Street
MAD Fold-In
And more...
Trivia
Coincidentally, after this magazine was made, MAD parodied The Social Network movie. (The Social Netjerk).
Ad blocker interference detected!
Wikia is a free-to-use site that makes money from advertising. We have a modified experience for viewers using ad blockers

Wikia is not accessible if you've made further modifications. Remove the custom ad blocker rule(s) and the page will load as expected.