Summary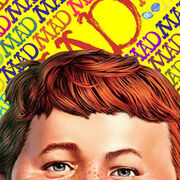 Mad is an American humor magazine founded by editor Harvey Kurtzman and publisher William Gaines in 1952. Launched as a comic book before it became a magazine, it was widely imitated and influential, impacting not only satirical media but the entire cultural landscape of the 20th century.
The last surviving title from the notorious and critically acclaimed EC Comics line, the magazine offers satire on all aspects of life and popular culture, politics, entertainment, and public figures. Its format is divided into a number of recurring segments such as TV and movie parodies, as well as freeform articles. Mad's mascot, Alfred E. Neuman, is typically the focal point of the magazine's cover, with his face often replacing a celebrity or character that is lampooned within the issue.
The contents of each issue is copyrighted by EC Publications, Inc. It is published by DC Comics.
Trivia
Ad blocker interference detected!
Wikia is a free-to-use site that makes money from advertising. We have a modified experience for viewers using ad blockers

Wikia is not accessible if you've made further modifications. Remove the custom ad blocker rule(s) and the page will load as expected.