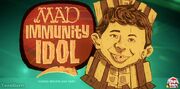 This ad is a parody of the Immunity Idol found on
Survivor
.
This is from the episode The Social Netjerk / Smallville: Turn Off the Clark.
Summary of Skit
The Immunity Idol from Survivor finally comes to real life!
Transcript
Jeff Probst: The rules of Survivor state that if an Immunity Idol is played any punishment against that player does not count.
Announcer (on screen): Wouldn't it be great if that could happen in real life?
Jeff Prost: How'd you get on the island?
Announcer: Well, now it can with the new MAD Immunity Idol. Now you can have complete immunity just like they do on Survivor.
(Scene goes to a girl skateboarding)
Woman: No skateboarding in the-
[cow bell rings]
Girl sticks tongue out.
(Scene goes to a classroom)
Teacher: OK, class, it's time for a pop quiz.
Class: [groans]
[cow bell rings]
Teacher: D'oh! Except for you, Billy.
(Scene goes to construction site)
Girl tips over porta-potty.
(Siren noises)
Cop: I'm placing you under arre-
[cow bell rings]
Cop: D'oh! Dang it!
Announcer: The MAD Immunity Idol.
Jeff Prost: That does it! We're suing you for stealing our i-
Announcer: Uh-uh! I'm. . .
Jeff Probst: Thank you (Jeff took the Idol)
Announcer: What the. . .
Announcer: The MAD Immunity Idol! is not in stores
Trivia
When the teacher yells "D'oh! Except for you, Billy!", notice there are veins and a tumor on his forehead.

Also, 'D'oh' is the catchphrase of the cartoon character Homer Simpson from the TV Show The Simpsons.
Antagonist: Annoucer and Kids
Ad blocker interference detected!
Wikia is a free-to-use site that makes money from advertising. We have a modified experience for viewers using ad blockers

Wikia is not accessible if you've made further modifications. Remove the custom ad blocker rule(s) and the page will load as expected.