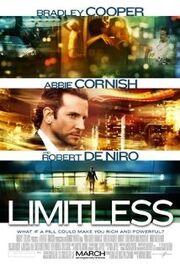 Summary of Movie
Limitless is a 2011 American thriller film directed by Neil Burger and starring Bradley Cooper, Abbie Cornish, and Robert De Niro. It is based on the 2001 novel The Dark Fields by Alan Glynn with the screenplay by Leslie Dixon. The film was released on March 18, 2011.
For more information about Limitless, visit here.
Appearances in Show
Ad blocker interference detected!
Wikia is a free-to-use site that makes money from advertising. We have a modified experience for viewers using ad blockers

Wikia is not accessible if you've made further modifications. Remove the custom ad blocker rule(s) and the page will load as expected.