Summary of Character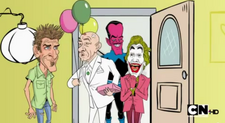 Alexander Joseph "Lex" Luthor
is a fictional character, a supervillain who appears in comic books published by DC Comics. He is the archenemy of Superman, although given his high status as a supervillain, he has also come into conflict with Batman and other superheroes in the DC Universe. Created by Jerry Siegel and Joe Shuster, he first appeared in
Action Comics
#23 (April 1940). Luthor is described as "a power-mad, evil scientist" of high intelligence and incredible technological prowess. His goals typically center on killing Superman, usually as a stepping stone to world domination. Though he periodically wears a powered exoskeleton, Luthor has traditionally lacked superpowers or a dual identity.
The character was originally depicted as a mad scientist who, in the vein of pulp novels, wreaks havoc on the world with his futuristic weaponry. In his earliest appearances, Luthor is shown with a full head of red hair; despite this, the character later became hairless as the result of an artist's mistake. A 1960 story by Jerry Siegel expanded upon Luthor's origin and motivations, revealing him to be a childhood friend of Superman's who lost his hair when a fire destroyed his laboratory; Luthor vowed revenge.
Following the 1985 limited series Crisis on Infinite Earths, the character was re-imagined as a Machiavellian industrialist and white-collar criminal, even briefly serving as President of the United States. In recent years, various writers have revived Luthor's mad scientist persona from the 1940s. The character was ranked as the 8th greatest villain by Wizard on its "100 Greatest Villains of All Time" list. IGN's list of the Top 100 Comic Book Villains of All Time ranked Lex Luthor as #4.
For more information about Lex Luthor, visit his opponent Superman, or here.
Character Appearances in Show
Ad blocker interference detected!
Wikia is a free-to-use site that makes money from advertising. We have a modified experience for viewers using ad blockers

Wikia is not accessible if you've made further modifications. Remove the custom ad blocker rule(s) and the page will load as expected.