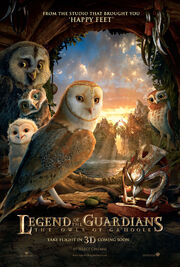 Legend of the Guardians: the Owls of Ga'Hoole is a 2010 Australian-American computer-animated fantasy film based on the Guardians of Ga'Hoole series by Kathryn Lasky. Zack Snyder directed the film as an animation debut, with Jim Sturgess, Geoffrey Rush, Emily Barclay, Helen Mirren, Ryan Kwanten, Anthony LaPaglia, and David Wenham voicing the characters.
Warner Bros. distributed the film with the Australian companies Village Roadshow Pictures and Animal Logic, the latter having produced visual effects for Happy Feet. Production took place in Australia, and the film was released in RealD 3D and IMAX 3D on September 24, 2010.
Appearances in MAD
Ad blocker interference detected!
Wikia is a free-to-use site that makes money from advertising. We have a modified experience for viewers using ad blockers

Wikia is not accessible if you've made further modifications. Remove the custom ad blocker rule(s) and the page will load as expected.