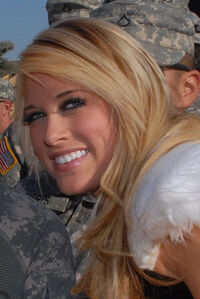 Barbara "Barbie" Jean Blank (born January 15, 1987) is an American model, professional wrestler, and professional wrestling valet best known for her time with WWE, better known by her ring name Kelly Kelly. She appeared in WWe Bought a ZOO.
Blank has a background in gymnastics and cheerleading. She studied broadcast journalism, hoping to become a television anchor, and worked as a model for Venus Swimwear and Hawaiian Tropic. In 2006, Blank was signed to a contract by WWE and sent to Ohio Valley Wrestling, a WWE developmental territory. She debuted on the ECW brand in June 2006 as 'Kelly Kelly', with the character of an exhibitionist and performing a striptease. She continued her stripteases, in a segment known as Kelly's Exposé, weekly on ECW, and also became the valet of her on-screen boyfriend Mike Knox. The following year, she formed Extreme Exposé with Layla and Brooke Adams, and the trio performed a regular dance segment on ECW. They later became involved in a storyline with The Miz, which led to the dissolution of the group.
Kelly then began participating in more wrestling matches, and was moved to the Raw brand in July 2008. Throughout the next year, she unsuccessfully challenged for the WWE Divas Championship on several occasions, before moving to SmackDown in early 2010. There she challenged LayCool for the WWE Women's Championship, but was unsuccessful. In April 2011, Kelly returned to the Raw brand, where she won the WWE Divas Championship for the first time in June. Kelly lost the title to Beth Phoenix in October, ending her four-month reign.
Kelly Kelly made her return to WWE on the August 6 episode of Raw, where she defeated Eve Torres in singles match. Her last appearance was at SummerSlam dancing along with the other WWE Divas "Don't Give Up" performed live by Kevin Rudolf. On September 28, 2012, Kelly Kelly was released from her WWE contract due to her requesting time off and not returning when the officials desired. Blank made her first appearance in a wrestling promotion since being released by WWE on December 4, making her first independent wrestling show appearance for North East Wrestling.
Ad blocker interference detected!
Wikia is a free-to-use site that makes money from advertising. We have a modified experience for viewers using ad blockers

Wikia is not accessible if you've made further modifications. Remove the custom ad blocker rule(s) and the page will load as expected.