Summary of TV Show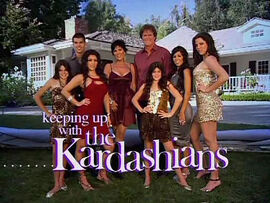 Keeping Up with the Kardashians
is an American reality television series airing on
E!
that premiered on October 14, 2007.
Season six began on Sunday, June 12, 2011 at 10:00 pm EDT (9:00 pm CST). E! ran a poll to determine which ad campaign should be used for the upcoming season, with the "White-Hot" option winning.
The show has also have short spin offs such as Kourtney and Khloé Take Miami and Kourtney and Kim Take New York and Khloé & Lamar.
For more information about Keeping Up with the Kardashians, visit The Kardashians Page, here, or here.
Appearances in Show
Ad blocker interference detected!
Wikia is a free-to-use site that makes money from advertising. We have a modified experience for viewers using ad blockers

Wikia is not accessible if you've made further modifications. Remove the custom ad blocker rule(s) and the page will load as expected.