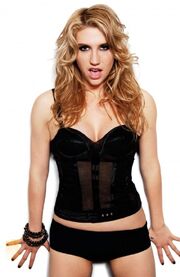 Summary of Character
Kesha Rose Sebert (born March 1, 1987), better known mononymously as Kesha (pronunciation: /ˈkɛʃə/ kesh-ə, stylized Ke$ha), is an American singer-songwriter and rapper. In 2005, at 18, Kesha was signed to Dr. Luke's record label, Kemosabe Entertainment, and publishing company. Although an active musician since then, singing background vocals and writing songs for other artists, her breakthrough only came in early 2009 after appearing on Flo Rida's number one single, "Right Round." Kesha's debut single "Tik Tok", released in late 2009, reached number one in 11 countries. Her debut album, Animal, was released in January 2010 and debuted at number one in the U.S., Canada and Greece. By September, Kesha had sold two million albums worldwide and released three more top ten singles from Animal. The album was re-released with a companion extended play, Cannibal, in November, preceded by the chart-topping lead single "We R Who We R".
For more information about Ke$ha, visit here.
Appearances in Show
Episode 6 (58) MADvent Calendar: The announcer announces that Ke$ha gets a lip tattooed that looks painful, yet still not as painful as listening to Ke$ha.
Ad blocker interference detected!
Wikia is a free-to-use site that makes money from advertising. We have a modified experience for viewers using ad blockers

Wikia is not accessible if you've made further modifications. Remove the custom ad blocker rule(s) and the page will load as expected.