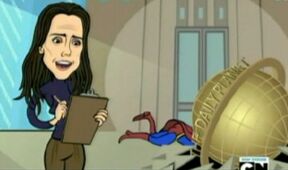 Summary of Character
Julie Taymor (born December 15, 1952) is an American director of theater, opera and film. Taymor's work has received many accolades from critics, and she has earned two Tony Awards out of four nominations, the Drama Desk Award for Outstanding Costume Design, an Emmy Award and an Academy Award nomination for Original Song. She is widely known for directing the stage musical, The Lion King, for which she became the first woman to win the Tony Award for directing a musical, in addition to a Tony Award for Original Costume Design. She was the director of the Broadway musical Spider-Man: Turn Off the Dark but left in March 2011, following artistic differences with the producers.
For more information about Julie Taymor, visit here.
Appearances in Show
Ad blocker interference detected!
Wikia is a free-to-use site that makes money from advertising. We have a modified experience for viewers using ad blockers

Wikia is not accessible if you've made further modifications. Remove the custom ad blocker rule(s) and the page will load as expected.