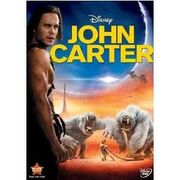 John Carter
is a fictional character, created by Edgar Rice Burroughs, who appears in Burroughs' Barsoom novels. Although he is actually a Virginian from Earth and only a visitor to Mars, he is sometimes known as
John Carter of Mars
, in reference to the setting in which his major deeds are recorded. His character is enduring, having appeared in various media since his 1912 debut in a magazine serial. The 2012
Disney
-made feature film
John Carter
marks the centenary of the character's first appearance.
For more information about John Carter, visit here.
Appearances in MAD
Ad blocker interference detected!
Wikia is a free-to-use site that makes money from advertising. We have a modified experience for viewers using ad blockers

Wikia is not accessible if you've made further modifications. Remove the custom ad blocker rule(s) and the page will load as expected.