This ad is a parody of Jersey Shore and Thor.
This ad is from the episode The Social Netjerk/Smallville: Turn Off the Clark.
Transcript
(THIS SUMMER)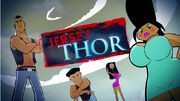 Odin: You're a vain, greedy, and cruel boy!
(GET READY)
Odin: I cast you out!
(Thor gets sent to Earth.)
Thor: Oh no. Is this... Earth?
Snooki: It's worse... It's Jersey!
(Thor gets shocked.)
Announcer: The Jersey THOR!
Thor: Your ancestors called it magic. You called it science. Where I'm from it's called a PARTY!
(Party scene.)
The Situation: Hey, The Situation has arrived.
JWoww: I think The Situation just got better.
(Party scene.)
Thor: I like this drink; Bring me another.
Vinny: Dude, those are our sodas. (Gets whacked)
(Party scene.)
Pauly D: Bro, you need to work on your tan.
Thor: I don't plan to fry today.
(Party scene.)
Thor: I'm fond of you all; (Shows a picture of Thor's family) My family wears crazy helmets too.
JWoww
: Uh, these aren't helmets. It's our hair.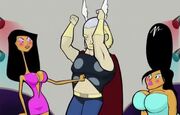 Thor: Oh, uh, sorry.
(Party scene.)
(Scene cuts to Thor and the crew in a hot tub.)
Pauly D: Yo, dawg, you'll totally fit in; You got abs, you wear a T, you even got a catchphrase.
Thor: By Odin's Beard! I do have a catchphrase!
Pauly D: You're just missing one thing.
Thor: A bigger hammer?
Pauly D: Close; Whoever wields this blow dryer shall possess the Power of The Shore.
Thor: HYAAAAAAH!
(Everyone gets shocked.)
Announcer: The Jersey THOR!
Trivia
Third time The Situation appeared.
Thor also didn't have the same skin tone and hair color of the crew.
This the second time Jersey Shore gets spoofed.
This segment's been censored in Latin America. It's perfectly fine to show it in the USA.
Ad blocker interference detected!
Wikia is a free-to-use site that makes money from advertising. We have a modified experience for viewers using ad blockers

Wikia is not accessible if you've made further modifications. Remove the custom ad blocker rule(s) and the page will load as expected.