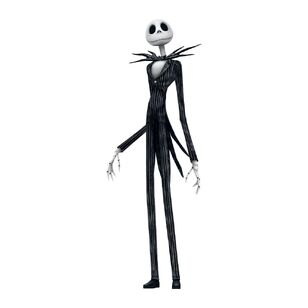 Summary of Character
Jack Skellington is the protagonist in the 1993 Disney film Tim Burton's the Nightmare Before Christmas. Jack is the "Pumpkin King" of Halloween Town and lives in a fantasy world based solely on the Halloween holiday. His usual appearance is a skeleton dressed in a black pin-striped suit and a bow tie resembling a bat, but there are some points in which he dresses as a scarecrow with a pumpkin for a head. His last name is a pun on skeleton. He has a pet ghost dog named Zero, who has a small glowing nose that looks like a Jack-o'-lantern. His love interest is Sally, a rag doll created by Dr. Finklestein. Jack is voiced by Chris Sarandon, and his singing voice is provided by Danny Elfman. The character is a popular design on bags, hats, clothing, umbrellas, belt buckles, pet collars and other items. According to Ultimate Disney.com's Top 25 Heroes, Jack is #25.
For more inforamtion about him, visit here.
Character Appearances in MAD
Ad blocker interference detected!
Wikia is a free-to-use site that makes money from advertising. We have a modified experience for viewers using ad blockers

Wikia is not accessible if you've made further modifications. Remove the custom ad blocker rule(s) and the page will load as expected.