This Mike Wartella cartoon is from the episode The Adventures of TaunTaun / Everybody Loves Rayman.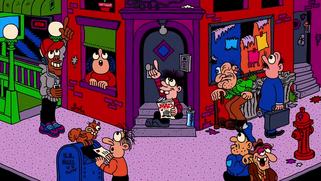 Summary of Skit
TBA
Transcript
Man #1: Look! Up in the Sky!
Woman: It's a bird!
Man#2: It's a plane!
Man #3: No, Moron! *Walking cane knocks on him* It's a bird!
*bird poo drops into kid's head*
Trivia
Bird is not a plane
Ad blocker interference detected!
Wikia is a free-to-use site that makes money from advertising. We have a modified experience for viewers using ad blockers

Wikia is not accessible if you've made further modifications. Remove the custom ad blocker rule(s) and the page will load as expected.