This ad is from the episode
ArTHOR/The Big Fang Theory
.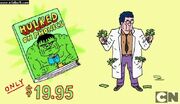 This ad is a parody of Hooked on Phonics and Hulk.
Transcript
Narrator: When it comes to learning, is your child weak?
Kid: Uh, Banana?
Narrator: Then toughen them up with......
Hulk: (Breaking into house) ROAR!!!
Narrator: Hulked on Phonics.
Hulk: With Hulked on Phonics, Hulk teach good speech for kids.
Kid's Mother: Um...Hulk? Are you the right person for this job?
Hulk: Hulk teach good old kid to... (growling) Hulk scientist! What you know?
Narrator: With Hulked on Phonics, your child will learn to read twice as fast by simply ignoring the less important words.
(Scene goes on in classroom)
Toddler: Cow jump moon.
Teacher: You seemed to have missed a few words.
Toddler: (growling)
(Scene goes in another toddler's house)
Toddler: Hop Pop.
Toddler's Father: This book doesn't even have that many words.
Toddler: (growling)
(Scene goes in Lenny's)
Kid: Rrrr! Boy eat Waffle.
Waitress: That menu is just pictures of food.
Kid: (growling)
Narrator: So order now, 'cause if The Hulk can transform in minutes...
Dr. Bruce Banner: Wow, where did all this money come from?
Narrator: Your child can too.
Kid: Me like book.
Narrator: Hulked on Phonics. The best way to teach your kids how to learn.....
Hulk (Breaking into house again): ROAR!!! Use less words!
Narrator: Uh, book read good! Rrrrr!
Trivia
The man was holding a Dr. Seuss book with a picture of The Cat In The Hat.
The Dr. Seuss book was incorrectly spelled "Sue us", which might be to avoid copyright infringement.
Bruce Banner was reading Hulked on Phonics in Captain America's Got Talent.
Lenny's is a parody of Denny's
Ad blocker interference detected!
Wikia is a free-to-use site that makes money from advertising. We have a modified experience for viewers using ad blockers

Wikia is not accessible if you've made further modifications. Remove the custom ad blocker rule(s) and the page will load as expected.